NOW EVEN SMALL MOTOR INSURERS CAN OFFER
LOW-COST USER-BASED POLICIES
PAYD

(Pay As You Drive)

and

PHYD

(Pay How Your Drive)
Now, all motor insurers can –
* Rate drivers into highly differentiated segments
* Give lowest costs to lowest risk customers
* Monitor driving behavior
* Profile fleet drivers for risk
You can record comprehensive driving behavior in real time
Hard cornering

Hard braking

Speeding

Distance driven

Locations driven

Severity of crashes
ONLY QRInno's advanced software engineering, Bosch data sensors and BellaDati's advanced analytics deliver low-cost PAYD, PHYD and concierge solutions to motor insurers.
* Powered by integrated telemetry from Bosch, the world leader in automotive electronics, and BellaDati, advanced data and video analytics for the automotive and other industries.
* 

Discover how machine learning and predictive analytics are changing the motor insurance industry. Today, even small underwriters can compete with the largest global insurers by offering precisely accurate driver profiles and prices.
PAYD (Pay As You Drive)
Insurance is priced on how far, when and where one drive, calculated dynamically using data from sensors in a device placed in the car and tele-communicated to servers running databases. Data includes odometer readings, GPS locational info and the amount of time the vehicle is used.
PHYD (Pay How You Drive)
PHYD (Pay How You Drive) is similar to PAYD, but also monitors driver behavior by measuring forces generated during acceleration, braking and cornering, when speed limits are exceeded, erratic steering and crash severity.
Benefits to the insurance company and its customers
Competitive advantage for insurers who offer these technologies over insurers that do not

Lower prices for people who drive safely or less than the average

Example: a customer who leaves his car at home and takes public transport will have lower insurance cost than someone with an identical personal profile but uses his car more often, whereas now they pay the same price for insurance.

Drivers can measure and improve driving habits

Better matching of insurance pricing with drivers' actual risk

Affordable insurance for young drivers, who need not pay for irresponsible peers

More choice for consumers on type of car insurance to buy.

Real-time assessment of a driver's risk, enabling

A driver to modify his/her driving to safer habits

Quick insurance price adjustments to reflect a driver's behavior

Potential for larger profit margins for insurers through additional services that can be offered by GPS, telemetry and other technologies

Tracking vehicle location for rapid response to emergency road assistance, accident or theft and enhanced personal safety

The same technologies enable vehicle-to-infrastructure communication, permitting drive-through payments, alerts and other services
Robert Bosch GmbH is the world's largest maker of automotive components including brakes, fuel systems, generators, starter motors and steering systems; and supplier of a multitude of engineering, building and consumer products.
BellaDati is a global supplier of advanced analytics to agriculture, banking & finance, education, government, hospitality, logistics, manufacturing, marketing, portals, project management, retail, wholesale, e-commerce, telcos and utilities.
Use your analytics-enabled system in days
Machine learning and statistics

Real-time API and SDK

ETL and data cleansing

IoT unification framework

Big Data warehouses

Ready-to-use, agile business intelligence

Geo data and visualizations

Multi-domain cloud
Simply plug into vehicle's 12v socket. Telemetry and mobile communications do the rest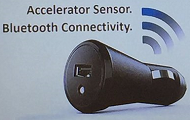 "Soon, companies that are not using IoT [Internet of Things] will have a hard time surviving." — Elon Musk
Through Creative Ideas, Innovation & Sheer Determination